Training:
I will be the first to admit that I did not train nearly enough for this run, and I would not recommend following my approach. While I had done some decent mountain training during December and January to prep for Running Up For Air, I had been focusing mainly on flat road running during March and April in the lead up to the Palmer Lake 24 Hour Death Race (when I say "flat", I'm talking ~2,000 ft of gain or less per week while hitting 50-70 mpw). After Palmer Lake, I took two "recovery weeks" of 12 miles (~2,500 ft of gain) and 40 miles (~6,200 ft of gain). I planned to do two more big vert weeks before the R2R2R attempt in order to get my legs into something even slightly resembling mountain shape. I got one week of 57 miles (~7,500 ft of gain), with a solid 20 miler in the mountains but unfortunately got sick during the second week and only managed to get in 30 miles (~3,500 ft of gain). I was really nervous about my lack of preparation, and it showed in my goals. I honestly thought it would take us around 15 hours to finish, while Gunnar thought we could make it in around 10-12 hours. The route we chose (using the Bright Angel trail twice instead of the South Kaibab trail) meant we'd cover about 48 miles with 11,000 ft of gain and 11,000 ft of descent.
Gear/Nutrition:
Zensah knee-high compression socks
rabbit arm sleeves
rabbit dirt pounder shorts
rabbit bunny hop tank
rabbit croptastic
Hoka One One Speedgoat 2's
Salomon Adv Skin 5 set pack
Honey Stinger gel, chews, & waffles (2 gels, 200 calories, 3 packs of chews, 480 calories, 2 waffles pre-run, 280 calories)
Tailwind Green Tea Buzz (approximately 1,200 calories worth, or 12 scoops)
Maurten gels (1 gel, 100 calories)
Peak Sherpa Energy Balls (ended up giving these to Gunnar, 260 calories)
Garmin forerunner 935
Prevail Botanicals CBD balm
Squirrel's Nut Butter anti-chafe cream
Goodr sunglasses
Aftershokz trekz air
Pre-Run:
So, this whole week was a bit of a whirlwind. After leaving work on Tuesday, we drove 3 hours to Silverthorne CO to spend the night. Got up early, ran for about an hour (at 9,000+ ft… oof!), got back in the car, and drove about 4 hours to Moab. We spent Wednesday night camping in Moab, ran on the trails Thursday morning, then got in the car and drove to Flagstaff. We did a short shakeout run Thursday afternoon at Buffalo Park and then got in bed super early because our alarm was set for 2 am Friday morning. Flagstaff is about a 90 minute drive from the South Rim. Our plan was to start the run sometime between 4:00 and 4:30 am, so we wanted to be out the door by 2:30 am. We quickly made coffee in the Keurig, put on our running clothes, grabbed the gear bag, and hit the road. We each ate two Honey Stinger waffles on the drive for breakfast, and tried to avoid the elk that would inevitably try to wander onto the road. We eventually got to the park, drove around aimlessly for a moment while trying to find the correct parking lot, and finally managed to find a good parking spot near the Bright Angel trailhead. We were not prepared for how cold it would be. We had been too worried about checking the estimated high temperatures in the canyon during midday, and hadn't thought about how chilly it would be up on top of the rim in the dark morning before the sun came up. Turns out, singlets and shorts aren't the best outfits for mid-30s temperatures. We grabbed some gloves and buffs, strapped on our headlamps, and shivered our way over to the trailhead to begin.
South Rim to Phantom Ranch: 10 miles, ~4,800 ft of elevation change (mostly down)
Our main focus for this portion of the run was to be conservative and avoid blowing out our quads on the long descent. We had the chance to chat with Rob Krar (previous R2R2R FKT holder) at a group run in Boulder a few weeks earlier, and he advised us to walk the entire first downhill in order to save our legs. While we didn't go quite that extreme, we did take it fairly slow. It was also still dark until we passed the Three Mile Resthouse, so we also went a little slower than normal just to make sure we didn't trip. It took us a little over two hours to reach Phantom Ranch, so right around 13:00 min/mile pace (this includes time stopped to take photos, use the bathroom, etc). I ate a Honey Stinger gel just before we reached Indian Gardens (about 5 miles in), and drank a full flask of Tailwind. We stopped at Phantom Ranch for a few minutes to refill our water bottles before hitting the trail again. I was a little concerned about how my day would go at this point. I wasn't feeling great already, and I was worried that my legs (and mind) wouldn't hold up if I was beginning to falter this early on. My legs had already started to ache! How could I do 30-40 more miles?
Phantom Ranch to Roaring Springs: 9.3 miles, ~2,700 ft of elevation change (mostly up)
We started off this section by running with another R2R2R attempt-er (is this a word? it isn't. oh well), a man from Utah who was training for his first hundred mile race later this year. We chatted with him for a bit, then took a break to walk and let him run on ahead. We chased him for about 5 miles or so, then caught up and passed him a little before reaching Cottonwood Campground. He seemed to be stronger on the uphills than we were (okay, he was stronger than me specifically…. Gunnar is way stronger than me on hills so he could have stayed ahead of him if he had been by himself). I was surprised when we caught him, because I didn't feel like we were moving very fast at all. I kept expecting him to catch up to us, but we didn't see him again for awhile.
In an ideal world, this is where we would have made up some time after taking it really slow going down Bright Angel. Unfortunately, I'm pretty shit at "douche grade" uphill running. This portion of the run is all "runnable uphills", about ~300 ft/mile. It's also at a fairly low elevation (~2,500-5,000 ft) compared to where I usually run (6,200 ft) and the elevation at the rims (7,000-8,000 ft). I was having the weirdest experience trying to run this section. My heart rate never got very high, staying in the lower end of my easy range (which I assume is due to the lower elevation?), but I just kept feeling out of breath on every tiny climb. My legs were also starting to feel worse. I just felt zapped of all my energy, and fell into a really deep hole for awhile. I made myself eat and drink more (another flask full of Tailwind, a pack of chews, and another gel), and eventually I started feeling a bit more energized. Turns out, calories are important! Who woulda thought? This section ended up taking us a little less than 2.5 hours, so an average pace of around 15:00 min/mile. I want to come back and really nail this section next time. I know I can do it faster, if I can just figure out how to not die on those runnable "douche grade" uphills.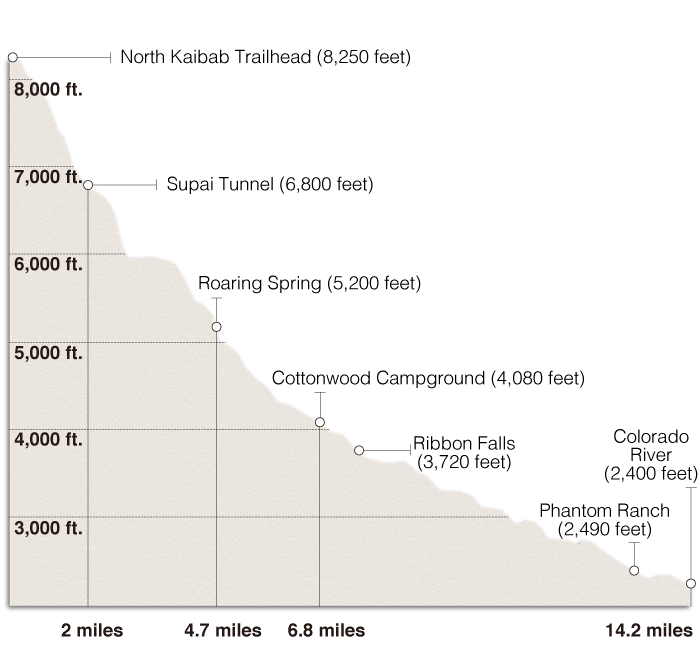 Roaring Springs to North Rim: 4.7 miles, ~3,000 ft of elevation change (mostly up)
Oof. This section was rough, mentally and physically. On the mental side of things, we were beginning to be unsure of how many more miles we had left before we reached the North Rim. We were under the (mistaken) impression that the distance from the South Rim to the North Rim was about 21 miles, so we kept thinking we were much closer than we actually were. By the time we reached the trailhead at the top of the North Rim, my watch read over 26 miles! I had known it was off a bit after some suspiciously fast mile splits, but I hadn't realized it was off to that extent. We also realized that because we took the Bright Angel trail instead of South Kaibab, we had added an extra ~6 miles round trip. I was talking a lot about how incredibly crappy I felt, and how terrified it made me that we were not even halfway done yet. I just could not imagine how I would survive the return trip. Gunnar asked me a couple times if I needed to stop after we got to the top and take the shuttle back to the South Rim. I told him that it wasn't an option, but I wanted to do it so badly. I was in a really bad mental place, but I was trying to not let quitting even be considered as an option. We came all this way to do Rim to Rim to Rim, not to quit halfway through!
Physically, I was dying. I had started feeling a little better after taking in some calories while we were run/walking through the canyon, but I started to feel crappy again as we hiked up. We also ran out of water/tailwind in our flasks, which was a bummer. We had chosen not to refill anything at any of the water stops after Phantom Ranch, because we kept thinking we didn't have that far to go! Oops. We could start to tell we were close to the top when we began to see more and more hikers who looked fairly fresh. Finally, after what felt like hours, we reached the top of the North Rim. We took advantage of the water spigots to refill all our flasks (with more Tailwind we had packed in little ziploc baggies), and I took a brief break in the bathroom. It took us almost 2 hours exactly to climb from Roaring Springs to the top of the North Rim, so an average pace of around 25:30 min/mile. Definitely not much uphill running happening here!
North Rim to Roaring Springs: 4.7 miles, ~3,000 ft of elevation change (mostly down)
The first couple miles of downhill were tough for me. I just couldn't settle into a good rhythm, and mentally I was still in a bad spot. One thing that did perk me up slightly was seeing our buddy from before! We passed him on our way down, about a mile out from the North Rim trailhead. He definitely looked a bit worse for wear (I'm sure we did as well… if I looked as bad as I felt, I'm sure I looked like death). Once we got past the first few miles, the trail got a little less steep and technical and we were able to speed up a bit. My legs woke up again, and we were able to run more consistently. The best part of this section was going past all the hikers who we had just seen while we hiked up. A lot of people were flabbergasted to see us again. One older man yelled at us to "be careful" as we ran past him, which was sweet. We descended this section in exactly half the time it took us to climb it! It took us about an hour to get back down to Roaring Springs, so a teensy bit faster than 13:00 min/mile pace. I was trying to get myself back into a good mood, but I was still really nervous about the fact that we still had 20 miles and almost 5,000 ft of climbing left to do. Gunnar was feeling confident in our abilities, and even thought we could manage a negative split in the second half, but I was mildly terrified. I had faith that I could physically complete those last 20 miles eventually, but I was having mild waking nightmares that it would end up taking us 10 or more hours to make it back to the start.
Roaring Springs to Phantom Ranch: 9.3 miles, ~2,700 ft of elevation change (mostly down)
The first five or so miles of this section flew by. We were running pretty consistently, occasionally taking a walk break on a short uphill. My legs were hurting at this point. Usually when they start to feel this sore, I just assume that means I can't run anymore and it's time to switch to just walking/hiking. It's just too hard to try to keep running. Today though I decided to just ignore how badly it hurt for as long as I could. That switch in my head finally flipped, and I could convince myself to keep doing the running motion even though it hurt. In a lot of my past ultras, I feel like I just give up towards the end and give in to the pain. I reach the point where I'm almost to the finish and I just lose steam and start walking. I think part of it is that I still feel so inexperienced at longer distances. I have very little confidence in the ability of my legs to keep running after 30 miles, because I have very little personal experience at those distances. It was really cool to realize that I was 8+ hours and 30+ miles into the run and my body could physically still run. I wasn't running very fast, for sure, but this was still a new realization for me, and one that I'd like to take with me as I run longer races. It was pretty empowering and enlightening to finally push past that self-imposed limit and pain threshold.
I was trying to keep up with my calories and fluids, but I think I managed to lose track (math is hard when you're over 7 hours in!). The temperatures in the canyon at this point had finally started to get high. On our first trip through the belly of the canyon, there were plenty of clouds in the sky to block the sun, and it even briefly rained a couple times. We were not so lucky on the return trip. The sun was out in full force and the clouds were gone. Wyoming was still in full-on winter weather mode (we're still getting snow and hail!), so I wasn't heat-acclimated at all. At one point I looked down at my hands and saw that my fingers had gotten really swollen. This is something that I've noticed before, especially during hotter races/long runs, but haven't quite figured out what causes it. I had taken a couple salt tabs while running, and the Tailwind had plenty of electrolytes, so I knew I probably wasn't low on electrolytes. I also try to make sure I drink to thirst, as I'm a little nervous and wary about over-hydrating and hyponatremia.
After noticing the swelling, I also started to notice some other slightly alarming physical symptoms. My ears had started to feel really hot, my skin was prickling, and I was getting a headache. I was starting to get really overheated. I started falling behind and was having a hard time keeping up with Gunnar ahead of me. I desperately wanted to dump some water on my head, but all of my flasks were full of Tailwind (and in my addled state, somehow I could not fathom dumping Tailwind on myself, ONLY WATER). I kept telling myself that I just had to make it to Phantom Ranch, where I could get water and cool down in the shade for a moment. Every single time we went around a curve, I kept hoping I'd see recognize the trees and trail that would indicate we were close. And I kept being disappointed. Eventually I broke down and started crying, totally freaking Gunnar out. He immediately jumped down to the river, filled up an empty soft flask with cold river water, and dumped it on my head. I started feeling better almost immediately, so I was able to rally and start running again towards Phantom Ranch. It took us less than 2 hours to reach Phantom Ranch from Roaring Springs (about 1:50, thirty minutes faster than it took us going the opposite direction), with an average pace of around 12:00 min/mile. We took a brief moment to refill our bottles and gaze longingly at the tourists drinking lemonade they had purchased at the ranger station (we meant to bring cash to get some for ourselves, and had totally forgotten it in the car!). A big group of hikers was hanging out by the water spigot, and we chatted with them before heading back out for the final push. We had passed them earlier in the day, and they asked us if we were doing Rim to Rim to Rim. They were doing Rim to Rim, and had started that morning from the North Rim. It was a bit of a morale boost for me when we all realized that Gunnar and I would be doing Rim to Rim to Rim faster than their group was doing Rim to Rim!
Phantom Ranch to South Rim: 10 miles, ~4,800 ft of elevation change (mostly up)
ALMOST THERE! (sort of).
Leaving Phantom Ranch, I still wasn't feeling amazing so we walked for a bit and ate some chews. I was hoping that I'd perk up a bit after taking in some calories, as I was pretty sure I was under-eating (a common theme for me during long runs/races). We tried to run a bit of the "flatter" section before the steep climbs start, but my legs were pretty fried. It didn't help that these gradual uphills on the bank of the river were also super sandy and loose. We slowly walk/jogged our way to Indian Garden (mostly walked, to be honest). This was another section of trail that felt never ending. We both hadn't remembered just how long this section was. It felt so quick when we ran it in the morning! I was distraught when we reached Indian Garden and realized we still had about five more miles and 3,000 ft of climbing left. We were also running low on calories. We had drank all of our Tailwind and refilled our flasks with plain water, and I only had a pack of Peak Sherpa energy balls and a single Honey Stinger gel left. Gunnar was out of food completely. After I experienced a brief dizzy spell and took a moment to sit on the side of the trail and collect myself, I ate the last gel and Gunnar ate the energy balls and we set off again. About half a mile after we left Indian Garden, my watch died! I quickly grabbed my phone and started tracking on Strava so I wouldn't miss any of the data (because if it's not on Strava, it didn't happen!).
One good thing about hiking out of the Canyon on the Bright Angel trail is that it's easy to figure out just how many more miles you have left. After leaving Indian Garden, you pass both a 3 Mile Resthouse and a 1.5 Mile Resthouse! Gunnar was still convinced we could finish with a teeny lil negative split (based off his assumption that we started around 4:20 am). After we reached the 3 Mile Resthouse, he told me that we'd make it as long as we kept moving faster than 30:00 min/mile pace. For the next three miles, I just focused on putting one foot in front of the other. At this point, we were both feeling pretty crappy, and we definitely regretted not bringing more calories with us. Our energy levels were crashing and I think we could have maybe picked up the pace a tiny bit more if we could have eaten something. With less than a mile to go, I looked at the time and saw that we weren't going to break 13 hours or run a negative split (assuming that we had indeed started at 4:20 am). I was pretty bummed, but considering my original goal was to make it in under 15 hours, I couldn't be too upset. I Finally, we reached the end of the dirt trail and hit pavement. We made it! We both broke into a run and "sprinted" (at about 9:00 min/mile pace lol) towards the trailhead. Those last 10 miles up to the South Rim ended up taking us about 3.5 hours, so around 21:00 min/mile pace.
Post-Run:
After basically collapsing onto the trailhead sign and asking a nice tourist to take our picture, we managed to hobble over to our car (well, I hobbled. Gunnar was in much better shape than I was, and could walk fairly normally). We started syncing our watches (although I had to charge mine a bit first!) and realized that we did indeed manage to squeak out a negative split and sub-13 hours! We had actually started at 4:28 am, so our mid-run math was totally off. We finished with an elapsed time of 12:57:06, and a negative split of about 8 minutes. It took us 6 hours & 32 minutes to go South to North, and 6 hours & 24 minutes to go North to South.
First 47ish miles on Strava (before my watch died)
Last 4 miles on Strava (post watch dying)
After taking a moment to just sit in the car and pound a protein shake, we hit the road to look for more food. We stopped at what may possibly be the world's most expensive McDonald's near the exit of the park. I ordered two large fries and a vanilla milkshake. I don't think I've ever eaten fast food that tasted as amazing as those fries and milkshake did. I sadly only managed to eat one order of fries before my stomach decided I was done. After arriving back in Flagstaff, I attempted to hobble my way up several flights of stairs to our Airbnb. Onlookers asked Gunnar "is she okay?" as I moved with the grace of an 85 year old woman who had just had a double hip replacement. My right achilles and my left hamstring/IT band were super tight, so I had an odd gait. I made it up the stairs eventually and collapsed onto the floor for a moment. I was suddenly incredibly cold and shivering uncontrollably, so I took a quick hot shower to try to bring up my core temperature. After the shower, I grabbed some water, slathered some CBD all over my aching body, got in bed, and passed out. Upon awaking the next day, I took stock of my body and was pleasantly surprised to note that I had zero blisters and zero chafing. Besides the painfully tight achilles and hamstring and some sort muscles, I was somehow still in one piece!
After getting the chance to reflect on this run for the past week and a half, I have mixed feelings about it. On one hand, I'm really proud of myself for actually getting it done and beating my time goal by over two hours. On the other hand, I made a lot of mistakes that could have been avoided. We definitely should have brought more calories with us. That's a huge rookie mistake and we should have actually sat down beforehand and planned out how many calories we'd need instead of just grabbing a bunch of stuff and guessing it would probably be enough. I also think that I could have done more to improve my overall mindset. I threw a couple temper tantrums during the run that were completely unnecessary and didn't help anything. I tend to spiral when I hit a rough patch, and I'd like to figure out some better coping strategies or ways to snap myself out of it and avoid the prolonged pity parties. I know for a fact that Gunnar could have finished several hours sooner if he had done it by himself and I hadn't been there to slow him down.
I'd like to come back and do the Rim to Rim to Rim again in the future and see how much faster I could do it with better preparation and execution. If I can get stronger on the douche-grade runnable hills and improve my mental strength, I think I could definitely improve on our time by a bit. This run also gives me some confidence for my first "official" fifty mile race in September! I've reached the fifty mile mark in a couple of my fixed-time races already, but I have yet to actually run a "legit" fifty mile race (and I've only done one "legit" 50k race!). My upcoming race is a lot flatter than the Canyon (only 3,500 ft of gain over 50 miles), so I definitely know without a doubt I can finish. I also have a better appreciation for how hard I can push my body as well as the newfound knowledge that I can continue to run after 8+ hours on my feet.